Eliska Dvorska / violin /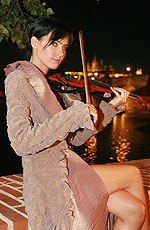 Eliska Dvorska was born on 21 June 1984 and began playing the violin at the age of three years. She graduated successfully from the Prague Conservatory in 2005 and completed her studies at the Academy of Music in Prague (HAMU) this year. As a member of orchestras and quartets she participated in the recording of studio albums by leading Czech singers (Marta Kubisova, Hana Hegerova, Aneta Langerova).
Katerina Zikova / violoncello /
Katerina Zikova was born on 23 September 1983 and also deals with music from her early childhood. She was a student of the Prague Conservatory between 1999 - 2005 which she completed by successful graduation. She was selected as the only cellist in the accompanying set of Rod Stewart on his tour in Great Britain in 2006.
Adela Peckova / violin /
Adela Peckova was born on 17 May 1985. She graduated violin from the Conservatory in the Czech Budejovice. She is currently studying the violin at the Charles University . She has been performing in String Ladies since 2009. She also deals with classical music and she is a permanent member of the chamber orchestra Ensemble 18 +

Náš host
Jaroslava Polakova (Kleinova) / violin /
Jaroslava Polakova was born on 30 May 1984 and began playing the violin at four years. She graduated from eight-year grammar school of Vaclav Hlavaty in Louny. She studied at the Jaroslav Jezek Conservatory which she completed by graduation. She is the first violinist of Dulcimer music by Vladimir Novotny and soloists in the band of her father Jaroslav Klein called Funny Orchestra. She also plays the piano, sings and teaches future musicians.